7 Steps to Making $100,000+ Income

by
.(JavaScript must be enabled to view this email address)
|
on
July 20, 2011 |
about
Planning Goal Achievement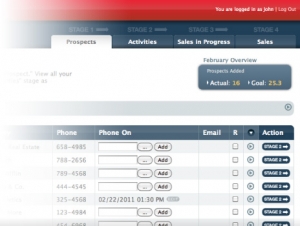 7 Steps to Making $100,000+ Income
In 1983, just out of college, I made $100,000* as a 22 year-old. I simply listened to my manager and disciplined myself to work this goal achievement process. I learned early that it is difficult to know your true potential without setting a goal, establishing target activities, then tracking effort toward the results.
It was said that a person would blow apart if they ever ran a 4 minute mile. After the record was broken, many runners broke the 4-minute mile barrier. What is the phenomenon behind this event? Two things happened. One, a person demonstrated the goal could be accomplished without spreading internal fluids on his companions. Two, he created a disciplined workout routine that could be shared with others, and when duplicated, better performance achieved.
A disciplined work routine is the same with a sales goal achievement process. We really do not know our true potential until we set and visualize a goal, set a workout routine, measure results of the routine and make daily corrective adjustments.
Try these steps, or just click "Signup" above to create an account and use the Wizard to set up your goal achievement process using this online funnel.
Write down your goal for the amount of money you want to make this year. Many salespeople do not have written income goals with a plan to reach the goal. There is power in writing down your goal with a plan. It creates a higher level of commitment to yourself. Want an even higher level of commitment, announce your goal to your spouse or mentor and ask for accountability.
Write down the number of sales or the dollar value of the sales needed to hit your income goal. This step includes understanding your compensation package well enough to accurately calculate the total sales volume you must produce.
Write down the number of presentations or the average dollar value of each presentation that you must make in order to hit your sales volume target. This step requires you to know, or make an estimate, of your closing ratio; number of sales made divided by the number of sales presented.
Write down the number of first meetings you must hold in order to make your target number of presentations. Until you hold a first meeting where you diagnose the needs of your prospect, the sales cycle does not begin. Seeing enough qualified prospects decreases the yoyo effect of up and down sales results.
Write down the number of prospects you must find in order to hold your target level of first meetings. Daily networking leads to always having enough prospects to call for first appointments. Think about your performance in this area. It is usually the most neglected and most challenging area for salespeople. Master the task of finding enough leads, and your life style will change dramatically. A great resource: Bill Cates http://www.referralcoach.com/
Track your progress daily. Tracking daily activity targets helps you measure your progress toward your income goal. Hitting daily activity targets creates points of celebration. Daily celebration around progress is important in addition to the less frequent times of celebration when a sell is made. All high performing athletes track their stats. It is the same for high performing salespeople. Tracking gives you a source of diagnosing weaknesses in order to take corrective action. Otherwise, you are simply guessing.
Find an accountability partner. This person can be your spouse, a coworker or mentor. This relationship will cause you to make wise choices as to ways you spend your time. This accountability relationship will cause you to gain a greater focus when faced with the decision to read email or make another sales call.
We have actually made these 7 steps easy for you. Click "Signup" above to create an account and use the Wizard to set up your goal achievement process using this online funnel.
Now go meet your income goals by managing enough of the right activities. I believe you can.
Your productivity coaches:
Lance Cooper and Steve Suggs
*current inflation adjusted amount
More Articles