7 Things Alfred the Great Did 2100 Years Ago Moving Him from Good to GREAT

by
.(JavaScript must be enabled to view this email address)
|
on
September 13, 2011 |
about
Planning Goal Achievement
,
Coaching Others
,
Inspiration/Attitudes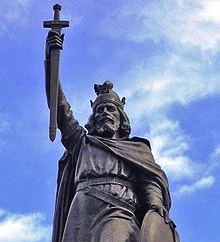 A great leader of particular interest was Alfred the Great, King of Wessex (Southern Britain) 871-899 AD. Through his son and grandson, his throne expanded to rule over the entire island of Britain. He not only drove the Vikings from his homeland, but he understood the needs of the nation and gave all he had to supply the needs.

Benjamin Merkle, author of The White Horse King, says, "England, and the many nations descended from her, still have Alfred to thank for a substantial portion of the heritage and freedoms that they enjoy today. Along with his fair share of foibles, he was a fierce warrior, a devout Christian ever thirsting for wisdom, deeply committed to justice, a lover of mercy, and a king who gave himself for his people."

Here are a few observations about this great leader and some questions to help us ponder our own circumstances.
#1 - He was an unlikely king. The first son of the king was usually the successor of the throne. Alfred was the 5th son making him an unlikely king. He had to learn quickly, adapt to his circumstances, learn from many mistakes, gain followers, strategize, and overcome many obstacles. The Vikings were raping, pillaging, murdering, and driving his people from their land.
What is it about your current situation that calls for some adaptation? What lessons from the past can be used to help develop a strategy to get over a current challenge? From whom do you need to get help?
2. He chose to listen to his wise father. He took Alfred to Rome and exposed him to education and culture. His father was a very giving person. Alfred continued this practice which created many loyal followers.

What lessons have been learned from a mentor in the past that can be put to use that will create followers among the people you lead? What are some ways you can give to others that will help them grow?

3. Alfred wore a battle helmet instead of a crown. He was willing to do things he asked others to do. He was the person on the lead horse charging the enemy. He stood behind the things he said. He had the ability to inspire with his words. People pledged a vow and committed to follow him.
What are some things that can be done that will put you in more realistic touch with the people you currently lead? What are some things you can do that will help you see, through the eyes of your customer, the problems you are attempting to solve with your product?
4. He had a great concern for the people. He shared his wealth with his loyal followers, leading to camaraderie among his leaders and army. He gave rings as a sign of loyalty.
What are some things that can be done to create camaraderie in our families, organizations, and communities? How is the lack of loyalty impacting your situation? What are some things that can be done to create loyalty from your customers, associates, and friends?
5. Alfred created ways for others to learn. He understood that people thrive when not held in ignorance. He made education important, so he translated the Bible and other books into the common language of the people, Anglo Saxon.
What are some ways you can make it easy for your customers to learn about your products and services? What are some things you can do to better educate those you lead?
6. He was not looking for a quick temporary fix. Alfred had a multigenerational vision that his dreams would be fulfilled by his grandson who eventually became the first king of England. When driven from his homeland, he hid out, regrouped, used guerilla warfare, and surprised the enemy.
How much attention do you pay to the distracting web sites, TV ads, and books that promise the get rich/secrets to success/10 easy steps? What is your long-rang plan for leaving a legacy for your children and grandchildren? Have you put it in writing, with steps, activities, and goals?
7. Alfred created efficiencies in the military, towns, fortresses, infrastructure, and logistics. He also restructured society with roads, education, churches, cities (fortified), trade, currency, navy, translated texts (Bible and other writings), and development of common law with a comprehensive focus. The overall result – businesses sprung up and prospered.
What changes in your efficiencies need to be made today? To analyze your current operation, ask these 4 questions about everything you do that matters: What is good? What is bad? What is missing? What is unclear? Then ask these 4 questions: How can I build on the good? How can I change the bad? How can I clarify the unclear? How can I find what is missing?
For a tool to help you and/or your salespeople set income and activity goals and then track the progress using an online funnel, click here.Tags: sales productivity, coaching salespeople, leadership, leading salespeople
tags: sales productivity, sales coaching, coaching salespeople, leading salespeople, leadership
More Articles