The Hidden Secret behind Consistent Sales Production - A Critical Sales Ratio

by
.(JavaScript must be enabled to view this email address)
|
on
November 12, 2011 |
about
Prospecting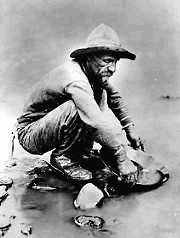 Have you ever panned for gold. Even today, there are people who know how to make a living wading in mountain streams and sifting all the lighter materials out of a pan leaving the heavier gold behind. Back and forth, left and right, the panner goes to a place hoped to be more concentrated in gold.
A few years ago, we were fishing on Little River in Townsend, TN when I saw a man panning for gold. He told me stories of nuggets found along the shore of the river and of gold mines upstream long ago. What was most interesting was watching him patiently search among lots of sand and sediment for a precious mineral. Oh yes, he did reach into a sack and pull out some vials of gold he had found on previous prospecting trips.

Prospecting for gold or fishing are very similar to prospecting in sales. Both require looking in the right places and sifting through some rocks to find things that pay off or make the trip worthwhile. You can do any of these activities well if you have the right levels of the right activities, and, in sales, with the right people.
……………………………………..
As a well-paid sales professional, you set aside a minimum amount of time each week to prospect leads and set 1st appointments. You want to set 1st appointments at the critical rate per month that you've calculated as necessary to meet activity management targets leading to your monthly sales and income goals.
Remember, 1st appointments lead to quotes - quotes lead to sales. The right amount of each with the right people (prospects) leads to sales goal achievement. Do you know the critical sales ratio you need to achieve your goals? Keep track. Discover these numbers and let them be your activity targets leading to a better lifestyle income.
IMPORTANT - Before beginning any sales period - day, week, or month - start that period with a Prospects-in-Progress List. This is a list of highest priority leads - a list that you will use to set your target number of 1st appointments. You might also call this your calling list for first appointments. The number of prospects on this list may need to be twice as great as the number of first appointments you must set each month.
Now pan some gold and stay consistent at it. Pan in the right places and keep yourself at activity levels that help you acheve the sales and income levels you want. Lance.
Sales Funnel Need Stability?
More Articles