The Sweat Zone

by
.(JavaScript must be enabled to view this email address)
|
on
September 06, 2011 |
about
Planning Goal Achievement
,
Inspiration/Attitudes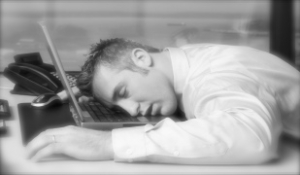 Several months were spent during my college senior year evaluating and being evaluated for a sales position with a financial services company. Time was spent with the successful reps in the firm hearing about their mission to help others by protecting families from financial ruin. The tour of the plush offices, a ride in the nice car of the manager, and the visit with the forty-year veteran legend all convinced me to take the job. I clearly saw myself becoming one of them in about half the time of the average rep.

After the week of training, I felt armed with all the tools needed to go and close sales. My best weapon was naïve enthusiasm. After one grueling day of intense rejection, I was convinced the honeymoon was over, and I was in the sweat zone.
The sweat zone is that area of work where challenging activities follow a time of dreams of success. About half way into the first activity we begin to sweat. We are living the reality of thorns and thistles encroaching on our efforts to provide for ourselves and others.

What causes some to endure the sweat, not quit, not give up, and to push through to the other side? Why do some salespeople go home after that first day of intense rejection and begin to look for an easier route to riches?

The answer is not simple, nor is it complex. Here are some key ingredients which many top salespeople posses.

1. A positive image of one's self as a salesperson and a burning desire to solve the problems of others using the product being sold.
2. One or more immediate financial needs that can be met by a job well done, and dreams for the future of providing for others.
3. Character traits that include honesty, hard work ethic, personal responsibility, and a concern for others.
4. Hard-wired personality traits of high social drive, high social confidence, high goal orientation, and high need for control.
5. Sales skills that include networking for prospects, setting/holding appointments, listening to discover needs, presenting solutions, gaining the sale, and getting referrals.
Getting to the other side of the sweat zone to the area of gratification for a job well done requires preparation and the right combination of these traits and competencies. We begin each career with some but not all five. Some are natural born traits. Many are learned through training, mentoring, and following proven processes.
The more of these ingredients we have and seek to obtain, getting through the sweat zone becomes easier. It is never easy, but easier, and the rewards get bigger each time we push to the other side.
To use an online sales funnel to set goals and manage your activties, click here to get started.

Tags: motivating salespeople, motivational sales information, career in sales, recruiting salespeople
More Articles