Welcome to SalesActivities.com's Blog

by
.(JavaScript must be enabled to view this email address)
|
on
July 29, 2011 |
about
Inspiration/Attitudes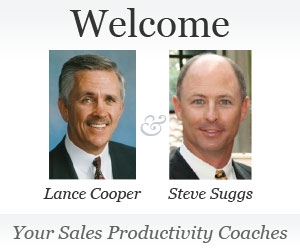 Hello everyone. We're the "Productivity Coaches" at SalesActivities.com. In a bunch of ways, we want to be the people who teach you how to be productive at sales. We want our coaching and the information we give here to help you produce a fantastic income. Where you find the focus on doing the right levels of right activities - being efficient, being productive.
We want to steer most of your day toward prospecting and face-to-face sales activities. We want you to be engaged and enlightened when you're with us. We want to hear a collective "Ah-Ah" when you get it. We want you to feed your family beyond survival. We want your self-respect and customer loyalty to increase. We want you to achieve your goals.
We want to inspire you to be better.
It's been 60 years. Yep, 60 years we've lived in a high-activity selling world. One where we had to meet our numbers each month and then start over. We've sold to survive and we've sold to prosper. We've made mistakes and we've been on a roll.
So, with simple tools, and easy to understand ideas, let's start learning. Remember, we want to learn from you as well. We want you, our family of friends and clients, to inspire, teach, and explode each other to higher professionalism.
Welcome, and let's get started. Lance and Steve, or Steve and Lance, or whatever! It's all about YOU.
Lance Cooper and Steve Suggs
We Can Do the Same for You
More Articles