What Does Laying Bricks Have to do with Sales Productivity?

by
.(JavaScript must be enabled to view this email address)
|
on
September 29, 2011 |
about
Planning Goal Achievement
,
Inspiration/Attitudes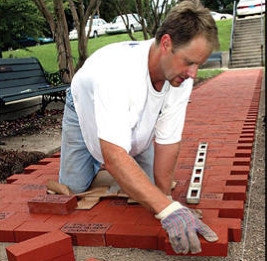 I recently built a brick walkway. Since I only had two days over the weekend to get it finished, a very detailed plan was necessary. The plan was simple, but complete. It included materials and a time schedule. Knowing my physical limitations and time constraints, I focused on this schedule. Dimensions of walkway: 3 feet wide, 10 feet long, bricks needed 240, 5 working hours per day, lay 24 bricks per hour.
After putting together this plan, it became very clear that since this was very hard work, and I could only work five hours daily, time management was critical. If I missed my target of laying 24 bricks per hour, the target of finishing in two days would be missed. The 24 bricks per hour included me mixing morter, resting, and doing all the brick-laying tasks. There was no room for mistakes or distractions. There was no way for me to make up for lost time during the next hour, or a way to extend my time due to physical limitations. After a while the body gives out.
In this task I can control being prepared, saying no to non brick laying tasks, limiting my distractions and focusing on the task. I can't control the weather or if my body gets injured during the task.
It occured to me that hitting my sales goal each month is exactly like this brick laying picture. I need a plan that lists the important activities and deadlines for each activity. There are things under my control and things beyond my control. As a high activity salesperson, I can control the amount of time I spend looking for prospects, setting appointments, showing up to appointments, and improving my skills. I don't have complete control over who says yes to my offering.
Just as I calculated the number of laid bricks needed to finish my job in 5 hours, I can calculate and track my sales activities (daily/weekly) needed to reach my income goal. And, just as I would miss my 2 day goal of finishing on time if I missed my hourly goal, I will miss my monthly income goal if I do not hit my weekly activity goal.
There are laws of nature in sales that many salespeople ignore. We are all limited by the number of hours prospects are available and by our energy to perform.
Many salespeople are under the irrational assumption that if they do not hit their activity goal this week, that by some miracle they will make it up next week. Just as I could not make up my brick laying goal because of physical and time limitations, sales activities, when missed, cannot be made up. If I need 5 sales calls each day, and I only have 2 today, it is physically impossible to have 8 tomorrow.
This reality is why a focus on doing enough of the right activities daily is critical to sales goal achievement.
To set your income goal with activity goals, use the online sales funnel when you create an account at SalesActivities.com.
Steve Suggs is a partner at Sales Manage Solutions, a sales consulting firm focused on coaching sales managers from good to great. You can also read Steve's recruiting salespeople blog at http://www.CanTheySell.com
More Articles